I normally don't do this kind thing, but I just couldn't stop myself from entering two of my amateur photographs on this adorable little blog called "
Life Is Too Short Not To Wear Red Shoes
". I think the name of the blog is what won me over to be honest(because I do love red shoes!). So here are my two photographs for my impulse entree in a photo contest!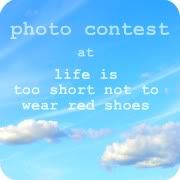 If your interested in entering or just checking out her blog and the amazing entrees just click the button above. I know one thing I would sure hate to be on the judgeing end off all these AMAZING photographs.
MY PORTRAIT ENTREES

Balloon Baby (Taken with 35mm)

My Curly Headed Munchkin (digital)